HELPFUL FACTS
INSTALLATION GUIDE FOR TERRAZZO TILES

PRE-INSTALLATION RECOMMENDATIONS

Ensure all Surface Gallery Italian Terrazzo Tiles are dry, clean and free of debris.
When installing Terrazzo Tiles in external or wet-area locations, tiles should be pre-sealed (6-sided seal or dip sealed where possible) with a high quality pre-sealer to protect against deterioration of terrazzo from hydrostatic water migration.
When installing Terrazzo Tiles in internal dry locations, best practice to pre-seal prior to grout - then final seal after grout.
Testing of grouts on sample tiles should be undertaken to determine if tiles require pre-sealing to avoid picture framing phenomenon that occurs when using some proprietary grout blends.
Expansion joint layouts should be set-out and approved prior to installation of tiles.
Use of compatible adhesive should be determined by adhesive manufacturer.
Considerations should be made to use rapid setting adhesives prior to installations.
All screeds, membranes, substrates should be cured and fully prepared as per adhesive manufacturer's instructions.

INSTALLATION RECOMMENDATIONS
Minimum of 90% adhesive coverage recommended during installation.
Terrazzo Tiles should be back-buttered with adhesive prior to installation to increase adhesive bond.
Minimum grout joint width recommended is 2mm.
Spacing crosses should be removed prior to grouting.
Minimal water should be used when cleaning excess adhesive from tiles.
As per manufacturers recommendations, a minimum of 5 days curing time should be observed prior to grouting.
Tiles should be protected during this curing time to prevent debris, contaminants permeating the open joints.
In external areas, un grouted tiles should be protected from the elements and wet events to prevent latex/polymer leaching from adhesives.
Suitable sealant for use with natural stone should be used for joint sealing of terrazzo.
Apply silicon jointing after final seal.
POST-INSTALLATION RECOMMENDATIONS

Terrazzo Tiles should be sealed with a suitable water and stain repellent sealer post installation.
PH neutral cleaners should be used during cleaning phases.
Products with high alkalinity or acid-based products should not be used on any Terrazzo Tiles.
Tiles should be covered and protected from other trades during construction.

NOTES
This information serves as recommendations only.
Refer to manufactures recommendations for methodology and compatibility.
Tiles should be installed following recommendations set down in AS 3958.1 2007.
When cleaning, maintaining, installing Terrazzo Tiles, products suitable for use with Terrazzo/Natural stone should be used.

RECOMMENDED PRODUCTS
Pre sealing and post sealing of Surface Gallery Italian Terrazzo Tiles.
GEAL – ICR17 HYDRO REPELLENT
GEAL TIO – DOUBLE DISPERSION SEALER

MAINTENANCE OF SURFACE GALLERY ITALIAN TERRAZZO TILES
GEAL – Concentrated PH neutral CB90 cleaner

RECOMMENDED ADHESIVES & GROUTS

KERAKOLL Biogel Adhesive
KERAKOLL Biogel Revolution (Rapid setting adhesive)
KERAKOLL Fugabella grout
KERAKOLL Fugabella Colour resin-cement grout.
RECOMMENDED PROFFESSIONAL

Please contact Stone & Co Solutions for pre-sealing, cleaning, sealing and all on-going professional stone maintenance.
Contact: Mariano Bastone 0416 262 826
Web Site: www.stoneandcosolutions.com.au
Instagram: @stoneandcosolutions
BIOGEL REVOLUTION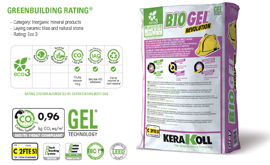 PRODUCT: BIO-GEL REVOLUTION

EXCLUSIVE ITALIAN HIGH PERFORMANCE ADHESIVE - All Kerakoll products distributed in Australia are fully imported from Kerakoll Italy.

SUBSTRATE PREPARATION
All substrates must be level, cured, undamaged, compact, rigid, resistant, dry and free from any debonding agents and from damp rising. It is good practice to dampen highly absorbent concrete substrates or apply a coat of Primer A Eco. The substrates should be cleaned and prepared in accordance with the relevant standards and as per the Kerakoll's Technical Data Sheets.
If a screed is required to level the surface for installation, then screeds must be installed in accordance with the relevant building code and respect the relevant Australian Standard.
With any screed ensure the floor is fully dry - the residual moisture level should be less than 0.5%.
Movement joints should be detailed on working drawings by the engineer and should be strictly adhered to.

SPECIFIED ADHESIVE
BioGel Revolution Adhesive should also be applied to the back of the Terrazzo (back-buttering). To ensure good adhesion, apply a thin coat of the adhesive with the straight edge of the trowel. Immediately follow this with a layer of adhesive at the correct thickness using a suitable notched trowel.
#Bonding in accordance with Australian Standards tiles sizes, larger tiles require the installation method of "back buttering" the tiles when installing. This method incorporates a thin coat of adhesive to the entire back of the tile and then laying onto the adhesive bed. This ensures 100% coverage of the tile to achieve maximum bond. This becomes particularly important for HIGH TRAFFIC areas such as shopping centres, airports where the use trolleys, scissor lifts or similar is expected

APPLICATION
Place the terrazzo tile firmly into position with a slight twisting motion / tapping, to ensure good contact coverage is achieved. It is recommended that once the first tile is laid, it should then be removed to assess the coverage. If it is acceptable, then continue, if it is not acceptable, reassess the trowel used and the application technique.
Create elastic expansion joints:
- ≈ 10 m2 in external applications,
- ≈ 25 m2 in internal applications,
- every 8 metres in long, narrow applications.
- Respect all structural, fractionizing and perimeter joints present in the substrates.Kerakoll

GROUTING
Joint width of your installation must be specified to ensure the final installation meets not only the aesthetic intent but also a set standard. When specifying terrazzo tiles we recommend in accordance with Australian Standards.

SPECIFIED GROUT
Fugabella Eco Porcelana 0-5 or Fugabella Color
Fill the joints completely with the grout using the appropriate trowel or rubber float, ensuring the joints are completely compacted with no unevenness. Remove excess grout while still fresh from the surface of the terrazzo by moving the float diagonally across the joints. It is suggested to carry out a 1 m2 sample area for approval by the architect.

For more information our detailed specifications and technical data cover the preparation of substrates, waterproofing membrane, screeding, adhesive, grout, and silicone systems can be found online at www.kerakoll.com.au.
THE NEW RAPID SET ADHESIVE FOR SURFACE GALLERY TERRAZZO
Kerakoll BioGel Revolution Rapid Set Adhesive is a multi-purpose, flexible, structural gel adhesive. It features longer workability with accelerated adhesion for bonding all types of materials, on any substrate, for any use, even in extreme conditions. Sets in 3 hours, ready for grouting.
Kerakoll BioGel Revolution Rapid Set is water and frost resistant, and suitable for areas that may be subjected to movement and/or vibration.
Kerakoll BioGel Revolution Rapid Set Adhesive also features a thixotropic and fluid consistency whilst retaining a long open time and excellent shape memory. It performs equally well in both high and low thicknesses, and does not suffer from shrinkage. Kerakoll BioGel Revolution Rapid Set also has excellent non-slip properties as well as being able to fully wet the back of terrazzo when laying.

For more information visit www.kerakoll.com.au or https://youtu.be/ycL3wQa4eIg